We deliver ethical communication that really works
What do we mean by the phrase "ethical communication"?
As members of the Public Relations Institute of New Zealand we sign a code of ethics. By signing the code of ethics we affirm our commitment to using communications to develop or maintain trusting, productive relationships between our clients and their stakeholders.
We also undertake to promote the views of those we represent to contribute to public debate and informed decision-making.
We balance our role as advocates for individuals or groups with the public interest. We also balance a commitment to promote open communication with the privacy rights of individuals and organisations.
Award-winning and internationally-accredited
What is the story of WaltersPR and who is in the team?
WaltersPR is an award-winning, internationally-accredited public relations consultancy that works with many of Australasia's most successful businesses.
The business was established by Jacquie Walters in 2012, the same year that Jacquie won a coveted Public Relations Institute of New Zealand award for crisis communications following the Canterbury earthquakes.
Since that time WaltersPR has established a fantastic reputation for service delivery and high standards. The majority of respondents in its 2020 client survey chose the words "trustworthy" and "expert" as their most compelling reasons to use WaltersPR's services.
The WaltersPR team has grown to include a group of consultants who share Jacquie's vision for delivering ethical communication that really works. Their dedication to high quality service has been rewarded with lasting relationships with successful businesses which also share their values such as Pic's Peanut Butter and OneFortyOne New Zealand – both foundation clients for WaltersPR.
Meet the talented team at Walters PR
Jacquie Walters
Principal (APR, MPRINZ, MA)
Key skills: media relations, crisis and issues management, strategic communications planning, writing and editing
Jacquie is a highly experienced and respected public relations professional known for her ability to give measured, calm and strategically pertinent counsel in high-pressure situations.
Her 26-year career in communications spans print and online journalism, writing marketing copy for television commercials, in-house and external corporate communications for electricity lines companies, strategic communications for an iwi organisation, and wearing steel-capped boots and hardhat as editor of a forestry industry magazine.
Prior to establishing WaltersPR in 2012, Jacquie was in-house Public Relations Consultant at the University of Canterbury, specialising in media and government relations. She advised senior management on issue and crisis communication and took the lead role in the University's media relations in the aftermath of the Canterbury earthquakes. Her work during this period was recognised when Jacquie and her colleagues won a Public Relations Institute of New Zealand Award in 2012.
Since 2012 Jacquie has attracted high-profile and long-standing clients to WaltersPR including Nelson Management Ltd (Nelson Forests), Pic's Peanut Butter, the Nelson Regional Development Agency and the Cawthron Institute. She has a passion for working alongside entrepreneurs as they grow their businesses and is a respected advisor to senior executives and business owners based in Nelson Tasman, around New Zealand, and overseas.
Jacquie is a member of the Public Relations Institute of New Zealand, is accredited in public relations, has an MA in Shakespeare Studies from the Shakespeare Institute, Stratford-upon-Avon (University of Birmingham) and a first class honours degree in English from the University of Canterbury. She is a trustee for the Te Matua Marine Experience Centre and a former trustee of the Nelson Cycle Trails Trust.
Email Jacquie at jacquie@walterspr.co.nz or phone +64 21 073 0454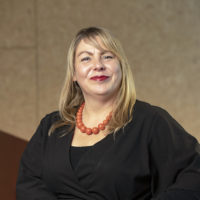 Sandrine Marrassé
Senior Account Manager (BC, DipPh)
Key skills: strategy, stakeholder relationships, media relations, writing, editing and social media
Sandrine joined WaltersPR in 2015 having distinguished herself by achieving outstanding results during her studies towards a Bachelor of Communication in Public Relations from Massey University's School of Communication, Journalism and Marketing, and a Diploma in Photography (with distinction) from Massey University.
Since then the high quality of her work has led to her becoming a director of key accounts and to her being given the crucial role of Senior Account Manager for WaltersPR.
Sandrine works closely with Jacquie to set the strategic direction for client work. Sandrine has the ability to deliver outstanding media relations results and her eye for detail ensures that key client objectives and outcomes are met and exceeded.
With a particular interest in the professional use of social media platforms, Sandrine understands how to build and sustain engaged communities of interest in the online environment.
Her background in hospitality management prior to embarking on her public relations career means that Sandrine brings a keen commercial understanding and a strong grounding in excellent customer service to everything she does.
Sandrine is a member of the Public Relations Institute of New Zealand.
Email Sandrine at sandrine@walterspr.co.nz or phone +64 21 170 6761
Alex Jordan
Digital Marketing Associate (BBus)
Key skills: SEO, analytics, digital advertising
Alex has more than six years' experience specialising in data analytics and all things digital.
After graduating with a Bachelor of Business Studies from Massey University he has worked for both web development and digital performance agencies, and now runs his own company Museo.
Alex's key skills are creating digital performance strategies that are based on data. He believes in a test and learn methodology and is constantly iterating his work until he finds the best working formula that returns the highest ROI for his clients. With skills in SEO, analytics and digital advertising, Alex has a wide breadth of knowledge and skills to cater for any client to help solve any digital problem.
Email Jacquie on jacquie@walterspr.co.nz or phone +64 21 073 0454 to enquire about using Alex's services
Joan Gladwyn
Proof Reader and Editor (BSc, MSc)
Key skills: editing and proof reading
Trained as a physicist in England, Joan worked first in industry, then as a physics teacher in the UK, and latterly as Science Outreach Coordinator at the University of Canterbury, having moved to New Zealand in 2003.
Joan's experience in proof reading publications during her time at UC prompted her to train for the Diploma in Proof Reading and Editing at the New Zealand Institute of Business Studies.
Fascinated by words and language, Joan enjoys perfecting manuscripts for her clients, whether on paper or on a web page. For fun she constructs personalised crosswords.
Email Jacquie on jacquie@walterspr.co.nz or phone +64 21 073 0454 to enquire about using Joan's services
Maria Oxnam
Administrator
Key skills: systems and processes, reporting, work flow management
Maria is a friendly and engaging person with an eye for detail and a love of well-functioning systems and processes. She joins WaltersPR after working in roles focused on facilitation and support in the not-for-profit sector and in general administration.
Maria is a busy Mum of two who plays harp. She is known in the Nelson Tasman community for her unstinting service for others.
Email Maria at maria@walterspr.co.nz or phone +64 2041832417